Gatwick – Oxford – Lewknor – High Wycombe Bus Tickets
Your holiday starts here
Want to start enjoying your holiday a little sooner?
With the airline coach service, it begins before you even reach the airport; on luxury coaches running throughout the day and night between Oxford, High Wycombe and Heathrow Airport. You will benefit from:
Direct connections to the terminal building
No driving, no parking, no shuttles
Competitive fares, cheaper than a taxi
Convenient stop locations in Oxford
Extra leg room, USB charging and free WiFi on-board
Mobile app, enabling you to track your bus, view live departures and buy tickets
---
Timetables
Timetables for the airline between Gatwick and Oxford
Please ensure you are at the bus stop at least 10 mins before the coach is due.
The arrival times provided on these timetables are estimates and can be affected by traffic. Please allow sufficient time between coach arrival and flight check in time – we recommend 1 hour.
Travel times (subject to traffic conditions):
Oxford to Gatwick South Terminal – 2 hours 15 minutes to 2 hours 50 minutes
Oxford to Gatwick North Terminal – an additional 10 mins from Gatwick South Terminal
---
Fares
The airline fares
Important: contactless payments of up to £100 are accepted on our coaches. If you are unable to pay with cash and the value of your ticket is higher than this, you can still purchase tickets through our app or book online.
Oxford – Gatwick
Children are defined as 5-15 years old. Children under the age of 5 years can travel for free.
Group tickets are valid for up to 4 people (must include at least one adult).
Period return tickets: give you the flexibility to make your return journey within 1 month.
2 trips and 12 trips tickets: valid for 12 months from the date of purchase.
Fixed date return tickets: you must book a specific date and time for both your outbound and inbound trip.
Flexible return tickets: allow you to book your first part of the journey and return anytime within 12 months.
Gatwick time-based products include travel on Heathrow services as well as local Oxford Bus Company and Thames Travel services within cityzone and South Oxfordshire Zone.
High Wycombe – Gatwick
Lewknor – Gatwick
Lewknor – Oxford
Gatwick – Heathrow
---
Stops
Where to get on and off
Oxford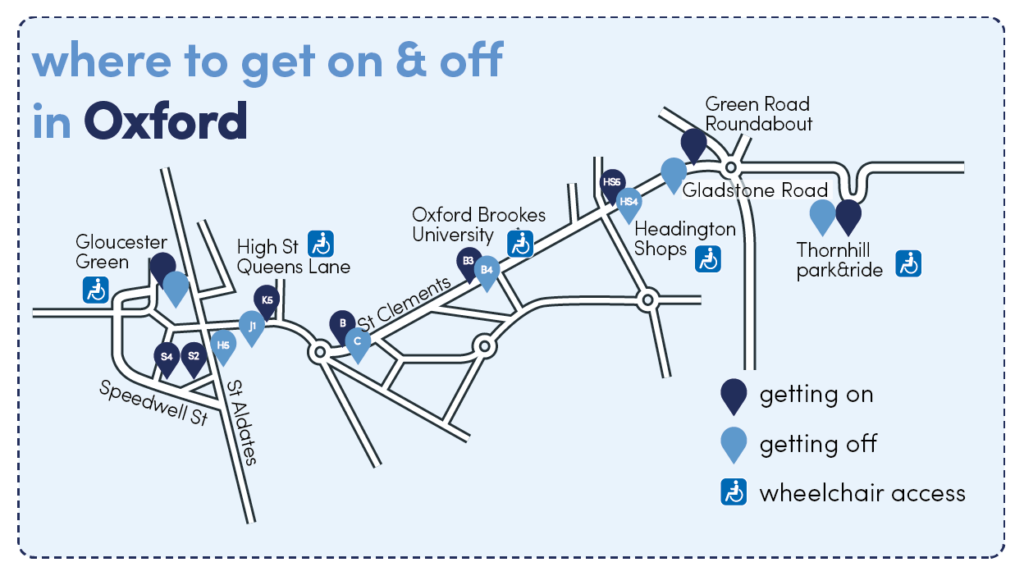 Lewknor
The coach stop (for travel towards the airports) is located just off the M40, near the village of Lewknor. Please see the map below for more information.
For travel towards Oxford please note that the stop towards Oxford is located several hundred yards away – click here to view on Google Maps.
Gatwick FAQs
The journey between Oxford and Gatwick takes approximately 2 hours 35 minutes, depending on traffic conditions. When planning your journey, please ensure you allow plenty of time for unexpected delays. We recommend aiming to arrive at the airport at least 1 hour prior to your check-in opening time.
Yes, all our coaches are fitted with lifts and we welcome wheelchair users on board. In order to avoid unnecessary delays, we ask that you advise us if you will be travelling in a wheelchair by contacting us in advance. You can do this by emailing info@oxfordbus.co.uk or calling 01865 785400.
Free parking for up to 96 hours is available at High Wycombe Coachway, which is within the High Wycombe Park & Ride site at Handy Cross. Find out more by clicking here.
Don't worry! Tickets booked for travel from either Heathrow or Gatwick airport may be used up to 24 hours before or after the service you have booked for. For travel from Oxford to Heathrow and Gatwick, your ticket may be used up to 2 hours before or after the service you have booked for. In both instances however, no seat can be guaranteed.
Bookings must be made at least 12 hours in advance of travel. If you missed the booking window, don't worry, you can buy your ticket from the coach driver upon boarding or via the Oxford Bus app.
We do not require a physical copy of your booking confirmation. You can save your ticket on your device and scan the QR code upon boarding. Please show the PDF ticket, and not a screenshot.
Unfortunately, pets are not carried on our coach services except for registered guide/assistance dogs.
The journey between High Wycombe and Gatwick takes approximately 1 hour 45 minutes, depending on traffic conditions. When planning your journey, please ensure you allow plenty of time for unexpected delays. We recommend aiming to arrive at the airport at least 1 hour prior to your check-in opening time.
We strongly recommend you aim to arrive at the airport at least 1 hour before check-in for your flight opens. This is to ensure you have extra time in case of unexpected delays.
Yes! Our drivers can upgrade your return ticket for you if your circumstances change. For example, if you've bought a 1 month return to Heathrow and you end up returning 2 months later, the driver can simply upgrade your ticket by charging the difference between a period return and a flexible return (£5) when you board.
Please note that this only applies to return tickets; single tickets cannot be upgraded to returns.
You are allowed to stow two suitcases (up to 20kg each) in the luggage hold of the vehicle and take one small item of hand luggage on board the coach. A surcharge of £5 is payable per additional suitcase.
Large items such as skis, trunks and cycles can only be transported if space permits and this is at the driver's discretion. A surcharge of £5 is payable per large item. Items must be suitably packaged. Whilst we take every care possible to ensure the safe carriage of your items, we still strongly recommend that you take out insurance.
Our coaches are not equipped with special car seats for babies/toddlers. You are welcome to bring your own but if this is not convenient, the child can be seated on your lap.
We understand that flights can be delayed or occasionally arrive earlier than planned. To give you peace of mind, you have 24 hours' flexibility either side of the chosen time for journeys from the airport. You can therefore board an earlier or later departure, as needed. Your existing booking will still be valid, though your seat is only guaranteed on the exact departure on which you are booked.
We recommend aiming to arrive at the bus stop at least 10 minutes before the coach is due to depart. Please ensure you are ready to pay or have your ticket/booking to hand.
A seat can only be reserved for a specific coach by making an advance booking online. Paper tickets purchased on board, app trips and key smartcard journeys do not guarantee a seat; these can be used flexibly on any departure within their validity. Don't worry, we always keep over half of the coach available for passengers who arrive without bookings.
Our coaches have many facilities to ensure you can travel in comfort and arrive feeling as relaxed as possible. These include toilets, WiFi, USB charging points and climate control, to name a few.